Introduction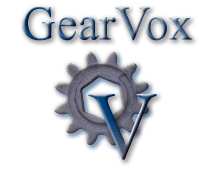 What does it do?
GearVox is a talking time and e-mail notification utility.
GearVox can be configured to periodically check an unlimited number of standard POP, IMAP or Microsoft Exchange e-mail accounts and optionally speak the name of the sender, subject and body of the e-mail. When minimized, GearVox resides in the Windows tray area.
Features
*Configurable periodic polling of multiple e-mail accounts.
*E-mail filtering.
*GearVox can tell you jokes and read quotes to you via a user configurable text file.
*GearVox can launch your e-mail client software.
*GearVox will not modify your e-mail inbox.
*E-mail notification can speak the sender's name, e-mail subject and read the entire e-mail.
*Intelligent e-mail polling. GearVox will remember the state of your e-mail inbox between sessions.
*Optionally have GearVox speak the time at user defined intervals.
*Optionally start automatically at Window's startup.
*Automatic detection of dial-up connection status (similar to ICQ Net Detect).
*Sound and voice notification of e-mail messages, GearVox can optionally flash the scroll lock key as well.
*Scheduled mute of all GearVox sounds.
*Global hotkeys.
*Speaking text on the Window's clipboard.
Click here for Quick Start Information: Quick Start
GearVox was developed by GearHeadForHire, LLC. For additional information, please visit:
http://www.GearheadForHire.com