Gearvox Talking Time and Talking Email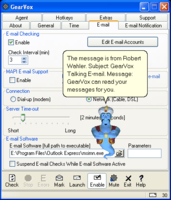 Spoken and silent e-mail notification
Incoming mail automatically read aloud
Listen to the time and clipboard text
E-mail filtering rules
Supports multiple POP3, IMAP4, and Exchange Servers
Description
GearVox is a talking email and talking time utility for Windows 9X/NT/2000/XP. Animated characters will speak the time and read your e-mail to you. GearVox can be configured to periodically check an unlimited number of e-mail accounts optionally speaking the sender, subject, and body of the e-mail. GearVox supports POP3, IMAP and Exchange (MAPI) e-mail servers
GearVox resides in the Window's tray area. A tray icon right click menu provides access to many of GearVox's actions and configuration options.
GearVox is DSL and cable compatible and also features dial-up connection detection for modem users. Additional features include speaking the clipboard text, notification via scroll lock keyboard light, time based scheduled mute of all sounds, online update checking, launching your e-mail software, optional popup hints and tips, setup and support wizards and many more features. Also available in Spanish, German, Italian, and Portuguese languages.
Features and options
Spoken e-mail notification. Hear the e-mail sender, subject, and/or message body
Silent e-mail notification via tray icon, scroll lock keyboard light, and/or on screen messages
Monitor an unlimited number of POP3, IMAP or Exchange MAPI e-mail accounts
User defined global hotkeys and double click actions
Play wav files on new mail
New mail waiting reminders
Enhanced MIME message decoding engine
Accessibility options for reading aloud tips and configuration help
GearVox will remember the state of your e-mail accounts between sessions
Will not modify your e-mail inbox
Especially suited as an e-mail notification utility if you normally leave mail on the server
Automatic detection of dial-up connection (similar to ICQ Net Detect). Cable and DSL Ready
Speak the time at user defined intervals
Launch e-mail software
Popup usage tips and hints
Random user defined spoken greetings
Setup and support wizards
Online update checking
Change your animated character by downloading new ones
Available in several languages and allows loading user created language files
XP theme support
Options for controlling the character visibility and motion between spoken announcement
Message filtering, prevent unwanted spam e-mail from being announced
Hear user configurable Jokes and Quotes
Entire or portions of your email read to you
Speak Window's clipboard text
Scheduled mute of all sounds. Keep GearVox quiet when you are asleep or away from work
Options for message reading based on e-mail size, number of lines, skip original message, etc.