GearVolt MP3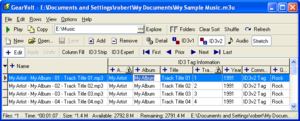 Visual worksheet based tag editing with undo
Rename files
Create ID3 tags from file names
Strip ID3 tags
Copy ID3v1 to ID3v2
Manage M3U play lists
Copy files to MP3 players
Description
GearVolt is an MP3 tag editor and file transfer utility. Batch rename MP3 files, parse tags from file names or other tags, copy and edit tags in a spreadsheet like grid interface with drag and drop support. Manage and copy your audio and data files to portable devices in the order you choose. Copy operations support any media addressable by drive letter or UNC path, i.e. Compact flash, hard drives, MP3 players, etc.
Features
MP3 ID3v1 & ID3v2 tag editing, filename to tag parsing and batch file renaming
Drag and drop files and directories from the Window's Explorer
Sort on multiple columns including ID3v1 and ID3v2 tags. Column headers indicate sort priority
Dragging rows will change the sort order
Copy operation observes file sort for support of MP3 players without sorting features (i.e. Nex player www.frontierlabs.com)
Status indicators allow optimal fill of your storage media by alerting you to play time and total file size
Supports drag and drop of playlist files (m3u), try right click dragging for more options
Launch audio files in your associated MP3 player software
Advanced options on right click drag allow finding files in subdirectories and playlist expansion
Handles any type of file, not just mp3's, copy your data files along with your audio files
Requires Windows 98/ME, NT 4.0 (x86), Windows 2000, or XP. Setup and uninstall support. No system dll's or runtimes needed!